BORA-CARE: THE DRYWOOD Termite Solution
Bora-Care treatments kill existing drywood termites and provide residual protection
Residual Protection
Any homeowner who has had to deal with drywood termites knows how hard it can be. Whether you use spot treatments or fumigate the structure, lack of residual protection has always been a problem. Many times homes need to be treated multiple times over the life of the structure.
While these procedures will kill the termites, they do not prevent them from coming back – even in the same year. And in the areas with heavy drywood termite pressure, it is not a question of if the home will become reinfested, but when. As a result, more and more families are looking for additional treatment choices when dealing with potential drywood termite problems.
Another Solution
An added colorant demonstrates Bora-Care's penetration into wood. Now you have another option-have your pest control company perform a Structural Drywood Treatment with Bora-Care. Bora-Care is an EPA registered termiticide and fungicide that is sprayed onto wood. The active ingredient in Bora-Care is Disodium Octaborate Terrahydrate, anono-corrosive borate mineral salt that is deadly to insects. And because it is a mineral salt, it will not break down over time. When Bora-Care is sprayed on the wood, its patented formula penetrates into the wood and remains there, providing years of long-term residual protection.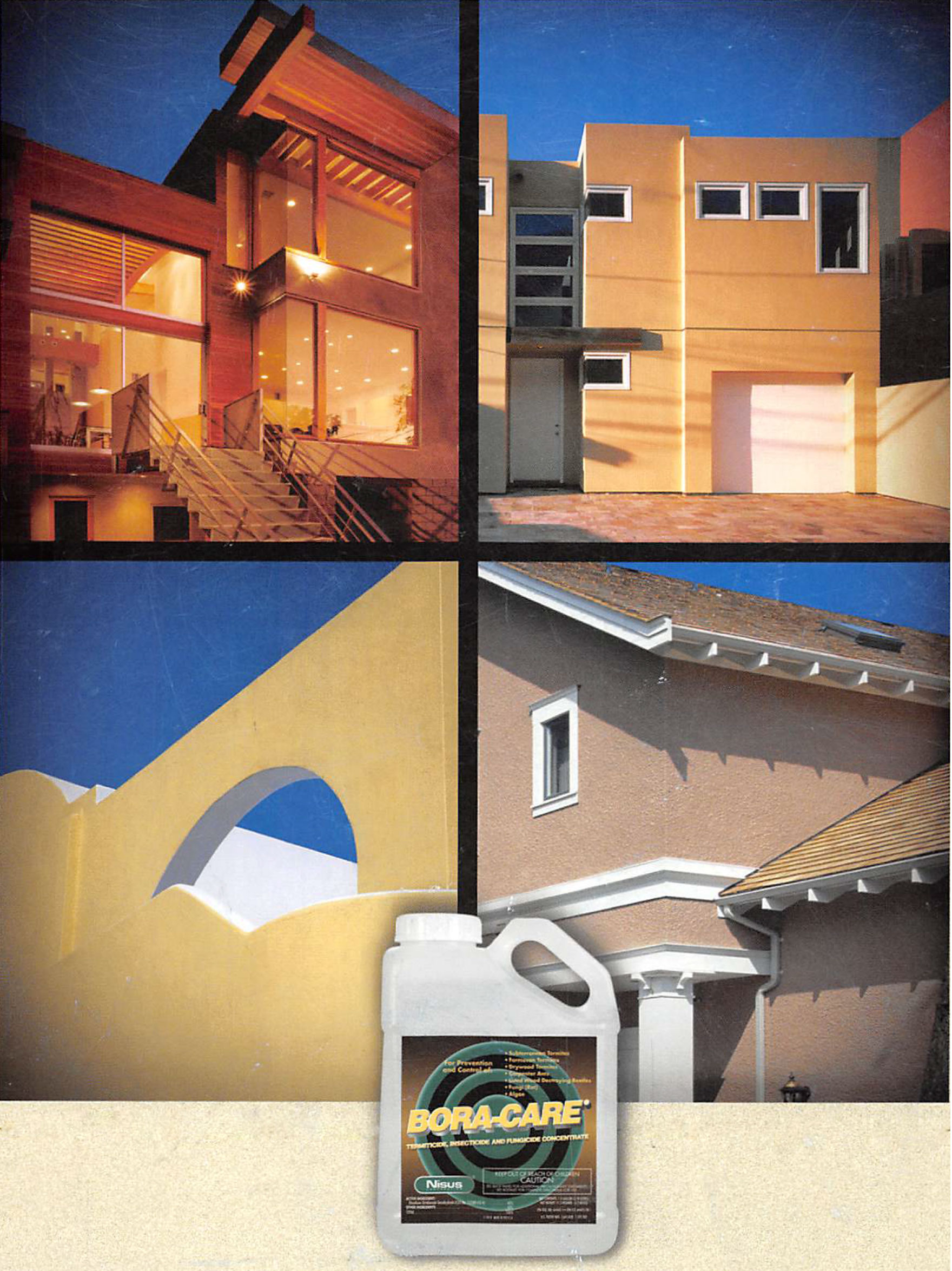 to use Bora-Care drywood termite treatments for remedial projects
1. BORA-CARE IS A RESIDUAL SOLUTION.
When Bora-Care is applied, it remains in the wood for years, providing residual protection against invading drywood termites.
2. IT'S CONVENIENT.
Bora-Care treatments can be done while you remain at home.
3. BORA-CARE TREATMENTS ARE NON-INVASIVE
because the product is applied to the wood: other parts of the structure are not impacted as they can be with other treatment methods.
Topically applied to surface.
Injected into active galleries and damaged areas.
Misted or foamed into wall voids.
4. VOCs ARE NOT A PROBLEM.
Bora-Care does not emit any Volatile Organic Compound.
5. LESS RISKS.
Bora-Care is applied using simple procedures that minimize risk.
6. TREATMENT CAN BE DONE OVERTIME.
Just as with painting, the crew can move from room to room until the project is complete.
7. THERE IS LESS POTENTIAL FOR PROPERTY DAMAGE
that may be associated with other treatment methods.
8. INHIBITS WOOD DECAY.
Bora-Care will also help stop existing wood decay from starting.
9. GENERAL PEST PROTECTION.
Wood treated with Bora-Care also provides an added protection against general pests such as cockroaches.
10. SAVES MONEY.
While the cost of doing a Bora-Care treatment may be comparable to other methods, the savings on temporary housing and inconvenience for your family will give you an overall lower cost, fewer headaches and long-term residual protection.
TREAT THE WOOD
Drywood termites tend to infest structures by gaining entry around doors, windows, soffits and attics. Once a nest matures, these termites may "swarm" every year and establish new colonies in other areas of the structure. By treating the wood, you not only get rid of existing infestations, but also help prevent new colonies from getting started.
APPLICATION
Bora-Care is sprayed onto all exposed wood in attics, garages, soffits and crawl spaces. Wall voids are injected using high pressure misting or foaming. Bora-Care is applied by foam or mist using a misting machine at a 1:1 or 2:1 ratio of water to Bora-Care.
The Bora-Care methods and technologies ensure that structural wood is protected.
ADDITIONAL BENEFITS
Your family can remain at home during a Bora-Care application. Bora-Care does not emit VOCs ("Volatile Organic Compounds"), and has an extremely low mammalian toxicity.
As an added benefit, the treated wood also has properties which help protect the structure from other unwanted guests such as:
Carpenter Ants
Powderpost Beetles
Anobiid Beetles
Old House Borers
Longhorned Beetles
Algae
Decay Fungi (wet & dry rot)
General pests such as cockroaches
MORE CHOICES, BETTER BUSINESS
Bora-Care is an effective wood treatment that protects the structure now and in the future against both drywood termites and a host of other pests. This allows pest management professionals, builders and homeowners flexibility in protecting their homes.

Contact Us
We would love to answer any questions or schedule a meeting. Please feel free to call us at one of our offices on the left or send us an email.
JBC Wood Repair
Termites can destroy the value of your home or business in record time.  JBC Termite & Pest Control can stop pest problems in their tracks.
100% Quality Pest Management Solution
JBC
Termite

and

Pest Control
Few things are worse than discovering that dry rot, fungus, or termites have put your home's foundation in jeopardy.  While you may be tempted to just call a carpenter to replace compromised lumber, removing the damaged wood is only part of the problem.  It takes a trained termite control team like JBC to eliminate any possible infestation and treat the rest of your structure to ensure termites don't come back.
How is JBC Pest Control different?  For starters, we have decades of wood repair experience specifically for keeping termites and pests off your property.  That means we won't only fix what you can see; our team will dig to the root of the problem and ensure that your home or business is protected for years to come.  In many cases, we can fully repair minor wood damage without performing a full tear-down and replacement- which can save you a small fortune in repair costs.
When extensive damage is present, JBC Pest Control is your one-stop source for inspecting, repairing, and eliminating any structural or wood-related problems.
Residential & Commercial Services
We Specialize in Termite Repair Damage
JBC Termite & Pest Control serves both residential and commercial clients for all pest control needs.  We specialize in preventing termite damage with annual inspections and treatments. In addition, our team is also highly proficient in eradicating existing termite nests, performing any structural repairs,  and ensuring that termites cannot return.  Call us today to setup an inspection and receive a free estimate!
JBC Termite and Pest Control
The JBC Pest Control team has decades of combined experience protecting homes and businesses from all types of rodents, pests, and termites. With the industry's best warranty and fast, courteous service, you'll love working with the JBC team!
Every home is unique and as a result we rarely offer the same treatment to any two homes. We complete a full 360 inspection of your property and offer a special treatment program for you.

Does your business have a problem with pests? Our technicians can be at your business before, during, or after business hours so you can seamlessly operate safely while we perform our treatment protocol.
It's only a matter of time before you start getting termites in your home if you live in Southern California. SoCal is home to various species of termites and our treatment program works with all of them!
We offer very competitive bids on all projects and provide quality service in a timely manner. We also have liability insurance that meets the highest standard of project.

Contact Us
We would love to answer any questions or schedule a meeting. Please feel free to call us at one of our offices on the left or send us an email.